There are many types of composition shingles on the market today, manufactured by companies such as Certainteed, Pabco, GAF, Owens-Corning and Malarkey.
Shingles vary in weight, style and life-span, but all are made with asphalt, mineral granules, and a fiberglass base mat. The common 3-tab shingles come in 20 and 30 year versions and they are the least expensive. The next level up is the standard Dimensional shingle (also known as Laminate or Architectural). These are now available with 30, 40, 50 and even Lifetime Warranties. This style resembles cedar shakes or shingles and is the most popular type of shingle. Upgrading to an Architectural shingle from a 3-tab is usually a wise choice since it substantially improves the look of the home and has a better warranty.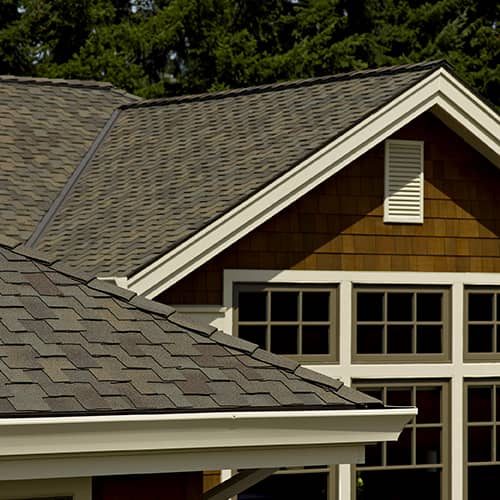 Certainteed Presidential TL
At the top end of composition we have the very heavy shingles known as Tri-Laminates (3 layers thick). These all have Lifetime Warranties, very high wind resistance, and are often required as an alternative to shakes in communities with covenants.
Some of the most popular include Certainteed Presidential Shake and Presidential TL and GAF Grand Sequoia and Grand Canyon.